Archive for October, 2007
Monday, October 15th, 2007
Hey,
Some kind seoul recorded part of the Mono show that I saw for posterity. Enjoy.
Sunday, October 14th, 2007
Ralph sent me this YouTube video; pretty simple, easily done with modern software if only you can see the angle; funny stuff!
Saturday, October 13th, 2007
Well, it's been a crazy two weeks. In the last week of September I was very busy preparing for my September 29 to October 11 business trip, often working late. Came home after midnight on the 28th, Friday, my last night in Singapore, so I didn't even see Naoko and Zen. I did watch a bit of Borat, which was funny and cool, but I only saw half of it before I just got too tired to watch any more. Saturday I took Zen to his Kodomo Club class, took care of a few errands, finished just in time to get out to the airport. Whew!
Naoko and Zen saw me off:

The flight to Boston was all right – KLM was better than I remembered, and I had a nice sleep, also watched a great movie, Pan's Labyrinth, and watched a few episodes of Heroes, so now I know what that's all about. Did a lot of sleeping, which was nice. Got to Amsterdam, wandered around the airport for a while, then caught my flight, which was NorthWest. Recalling bad experiences I had in 1996, I was dreading using this airline (which some people will only refer to as "NorthWorst" Airlines), but I found that service was better. Maybe this is only for international service, though, I remember my domestic flights in 1996 were pretty bad. Got to Boston at 10:00 AM, took the free shuttle bus to the hotel, found out I couldn't access the room since it was registered in the name of the colleague I was sharing with and not me, so I left the suitcase in the lobby and explored a bit, which was all right. Caught up with the others at 3:00 in the afternoon, ate, then went off to a party in the science museum. Nothing special, but the fact that we had a limo bus driver drop us off and pick us up was nice. On the way home we asked him to show us some nice parts of Boston, so he took us to Fanueil Hall area, the Bank of America theatre, some of the nice streets, past the site of the Cheers bar, and other places. Got back, slept, next morning got up and checked out the event. About 8,000 delegates, over 200 exhibitors, and all sorts of senior industry people drifting about. I did a few interviews, saw a few sessions, saw the opening plenary, then went to a lame industry party.
Opening plenary:

Tuesday was more of the same, except that in the evening I went to two parties. One was with very senior people from one of the big U.S. banks, which was cool, the other was at a modern art gallery, which was interesting – wandering around the exhibits, eating and drinking then checking out the old fat people dancing to a covers band that played jaunty, danceable hits like "Walking on Sunshine".
Girl dressed as tree, "swaying" in the "wind":

Wednesday was more of the same, except in the evening I met up with my old neighbour Dave from the Nishinomiya days, who lives in Boston, and we went back to the Fanueil Hall area to eat clam chowder and drink beer, accompanied by my colleague. Both of us were sleepy and dropping off to nap every now and then. Dave drove us back to the hotel and we hung out in the lobby writing an article for our e-newsletter. Hard.
Thursday was more of the same, except that they had a closing plenary, finished early, and then had a party. I went back to the hotel room, changed into casual clothes, then headed back out to the event. The buffet dinner for 8000 people was lame and impersonal, and not delicious at all, and the band was about as good as the one on Tuesday night. I had more fun hanging out in the karaoke area, where I did "I Wanna Be Sedated", which some of the people there seemed to appreciate. Apparently a lot of the senior bankers thought it was a better place to be since I saw many of them there as well.
Friday I checked out of the hotel, lugged my 37 kilos of luggage off to South Station, and took a bus from Boston to New York. Heading out of Boston I took a Foo Hwa bus, which only costs $15 for the whole trip. In the bus were mostly university students – trim, scantily clad people who either chatted merrily or listened to their iPods. The fat girl next to me was an exception – she chatted on her cell phone most of the way. We had a pit stop at one point. I read a lot from Endo Shusaku's novel "Samurai", which was good. Got to New York near 7:30, it was quite an exciting moment for me as we crossed the bridge into Manhattan. Got to Chinatown, tried to call my friend, but didn't get through on my first attempts. Found a Chinese restaurant to sit down at and eat dumpling soup, drink beer and read. Yay. Got in touch with her at 11:00, then off to the Upper West Side to take a shower and get some rest.
Saturday was my first full day in New York. Both of us got up at 8:00: I because I was excited to see the city, and she because she had to go to work! We went for breakfast (bagels with cream cheese and lox) and then walked down Broadway so that I could see the Lincoln Centre. Lots of trendy New Yorkers all over the place. The sidewalks have scaffolded frames built around them so that they become tunnels of sorts, can't tell what they've been built for. They are all over the city and don't appear to have a useful purpose of any sort.
We split up at the bottom entrance to Central Park, so I entered there and marvelled at the many New Yorkers who were already out and about so early in the morning. Besides the regular runners and walkers and cyclers there seemed to be some sort of a 10 kilometer run on. Eventually I found Strawberry Fields, which seemed to actually smell like strawberries, and some brash hippy was giving a big old speech about John Lennon and Strawberry Fields as if he were a tour guide. A huge group of people were listening to him. Right across the street was the Dakota, where John Lennon lived and died.
The Dakota:

I walked through the park, saw the Obelisk, hung around outside the Met, decided not to spend several hours inside since it was such a beautiful warm autumn day, walked down Fifth Avenue admiring the booksellers, eating pretzels and hot dogs. I saw the Apple Store, Radio City Music Hall, the Rockefeller Center, some of Park Avenue, the Helmsley Building, and Grand Central Station. Looked down the street from Grand Central Station, I spotted the Chrysler Building.
The Chrysler Building:

Wandered along 42nd street, at which point I was pretty darn thirsty, so I had a beer at the Hard Rock Cafe. Checked out guitars from Tony Iommi and Dimebag Darrell, among others. Went outside and checked out Times Square, where a big old band was playing on the sidewalk – guitar rock with a Latino flair. Nice. Went into the Virgin Megastore, but they had none of the CDs I was seeking (Swans, Eyehategod, Sleep, Saint Vitus, Mekons, etc.), so I scrammed. Some "megastore" that was!
Found some music equipment shops, they had very few lefties. But I checked out a right-handed guitar signed by Tony Iommi (who plays left). Spotted the huge TV screens that run ads. One of them seems to have been about seven stories high and was advertising M&Ms. Where does that company get the money to pay for this stuff from selling $1 bags of candy?
Live from New York:

Kept wandering around, saw the Empire State Building, Madison Square Garden and Penn Station, then took the subway to East Village. Looked into the CD shops there, but also couldn't find any of the bands I wanted to buy CDs from. Met up with an old friend from high school, John, whom I hadn't seen for over 20 years! We're both older and wiser and had plenty to share about the last 20 years. He took me to about four pubs, one of which played really great music like Jane's Addiction and Black Sabbath. It was so great to hear eclectic music rather than the boring stuff you get in Singapore.
The last bar was called Music Bar. It was quiet enough when we got there, but after a while it started to fill up with 20-something women who looked like models. It turned out to be quite the place after all! We left late and I walked part of the way home – I went along 14th street, past Union Square Park, went into the Virgin Records Store there near midnight (they were blasting Slayer "South Of Heaven", which was cool) then I went up Seventh Avenue until I found the Chelsea Hotel. The hotel, built in 1883, is probably where I would have wanted to stay if I didn't have a friend's place as a crash pad, but it would have cost me nearly $200 a night. Besides being the subject of a Leonard Cohen Song, "Chelsea Hotel #2″, the hotel is also where famous people have lived (Mark Twain, O. Henry, William Burroughs, Arthur Miller, Jack Kerouac, Stanley Kubrick, Tom Waits, Bob Dylan, Janis Joplin, Jimi Hendrix, Sid Vicous) and died (Dylan Thomas, Nancy Spungen, Lost Weekend author Charles R. Jackson, and fashion designer Charles James, among others). Arthur C. Clarke also wrote 2001: A Space Odyssey there. Check out the Chelsea Hotel website and Wikipedia entry for more information about the place.
I remember you well at the Chelsea Hotel:

Sunday I went out to Connecticut and didn't see too much new in New York, but it was fun getting into a train and seeing rural places. The train headed north through Harlem before veering off along a forested shoreline. Met Margaret and her family at the train station, only a slow three-minute drive from their home. Sat around chatting and catching up and preparing lunch, which was pasta salad and wine, then running errands like getting slices of pizza for the girls and picking up groceries at Shop 'n' Save. Great fun, fantastic house, nice wine and beer and music, sunny and breezy. Husband Larry is a cool guy, and daughters Katie and Emily are spunky and full of fun. Baby Ali slept most of the time but is a beautiful little one. We went out to the beach to watch the waves and fly a kite, but mainly to enjoy the lovely sun and wind.
Had to leave at 4:45 to catch my train back into the city, but it was good fun. The ride was smooth, got back to the place at 6:30, went out to eat Greek food just around the corner from where I was staying, yummy. After dinner we walked around a lot, checked out the Dakota at night, chatted, bought beer, did some emailling, bought my Amtrak ticket from New York to Boston, took care of other stuff on the computer, then went to sleep.
Monday I went downtown. It was Columbus Day, so there wasn't much traffic, which was nice. A tourist asked me what Columbus Day is, I had to say "sorry, I don't know." I saw one weird thing – some guy wearing a Boston Red Sox jersey over his work shirt and tie. What's he trying to do – provoke the Yankees fans and get himself killed?
Got out at Battery Park, wandered around. I was standing right in front of the Staten Island Ferry Terminal and a pretty girl walked up to me, said "where is the Staten Island Ferry" in a Russian accent; I said "it's right there," pointing over my shoulder to a building that was 20 metres away that said Staten Island Ferry in huge letters. I saw some guy filming her with a video camera so I asked her "hey, are you filming me?" She said "no," and the guy with the camera nonchalantly started filming something else. Strange.
I saw the Statue of Liberty through the trees and across the water. What a pretty view of the world, as the suburbanites head out to Staten Islands and the ferry boats shuttle stuff around the harbour as helicopters shuttle executives overhead.
The Statue of Liberty:

Nearby I saw Lincoln fortress and all the war monuments, then had breakfast next to the fire station at Ground Zero. The place where the World Trade Centre towers stood is a big hole in the ground, the subway station that is about four levels underground is exposed to the open air. A mid-sized black building that had been owned by Deutsche Bank was in the process of being demolished, six years after the attacks. I checked out Ground Zero, then walked through St. Paul's Chapel where a lot of the relief activities were headquartered, a truly inspiring, heavy experence.
Next I walked along Broadway – the street was closed to traffic and they had all these international food stalls open there. I bought the book Our Band Could Be Your Life at a Borders there, went down Wall Street and saw the New York Stock Exchange, a building with an obnoxiously large U.S. flag flying in front of it, kind of like Fanueil Hall in Boston.
NYSE:

After glimpsing the outside of the NYSE< I walked to the slummy side of the New York financial district and got a $3 shoe shine. Then I walked around the piers and met some Belgian tourists, helped them take pictures, got a look at the Brooklyn Bridge, then walked back up back up Church Street and West Broadway. I walked along Murray Street, where Sonic Youth live (they named one of their CDs "Murray Street"), then up through Soho and past Shoe Repair Central. Home to the Youth:
Shoe Repair Central:

Went up Church Street and the Avenue of the Americas through Soho and over to Canal Street – where I had been stranded on Friday night – and then back down Broadway. I had a business meeting at the Woolworth Building, an old art deco building downtown at the foot of the Brooklyn Bridge and near New York City Hall. But before the meeting I snuck across the street to a record store there and bought a few CDs, namely Mekons "Natural", Eyehategod "Dopesick" and one Sleep CD ("Dopesmoker").
After the meeting, they took me out to lunch, which took another three hours. I got out of there, then walked up the Brooklyn Bridge until about halfway to get a view, glorying in the fantastic sunny Monday afternoon holiday weather. Bicycles purring around me, pedestrians of all shapes and sizes and nationalities. Great, great, great. Toronto has nothing like this!
The Brooklyn Bridge!!:

Got down from the bridge, walked past some sort of supreme court or someting, then found Mulberry Street. Interestingly, one long stretch of it is completely Chinese, the rest is Little Italy. Had a beer at Cha Cha's bar, which is featured in a scene in the Sopranos and has walls covered with signed pictures of every Italian-American entertainer that there has ever been. Cha Cha himself, it seems, had something to do with the Abel Ferrera movie "China Girl", an Italian-Chinese "West Side Story". He was also a character in the final season of the Sopranos, Albie Cianflone. Interesting place indeed, with a nice outdoor garden for me to go and drink a beer, rest up, and look at my new CDs, and dig a bit of Mulberry Street action.
And To Think That I Saw It On Mulberry Street:

Followed Mulberry up, went along Bleeker Street, and into Washington Square. There was a wild jazz band playing there – a huge back guy with a white beard and a wild white afro was on keyboards when I passed by, but he gave it up for a great trumpeter. They guys were fantastic. I wish I had been there with friends, or had a bunch of beers (or both), but instead of trying to meet new people I kept on moving and went back to Generation Records to buy some CDs (Sleep, Saint Vitus, Swans). Kept walking along Bleeker Street and up Seventh Avenue. Went back to change, then out again to Webster Hall on 13th Avenue to check out a live show. The headlining band was Live On Fire, a heavy metal band that has the former Sleep guitarist on guitar (and Joe Preston played bass on the studio albums, but he wasn't touring with them). They were not bad, but even better than them was the opening band Mono, from Japan, which played instrumental music that is somewhat akin to Godspeed You Black Emperor (i.e. playing electric guitars as if they were mandolins), but quite a bit louder.
High on Fire:

Mono:

Interestingly, my friend Matt gave me one of their CDs a while back – Mono + World's End Girlfriend. Now that I've seen the band live, I'll have to listen to that one more carefully. Left the place after midnight, walked past Union Square, had some brief subway confusion, got out at 72nd Avenue, looked around for a place to get one last beer of the evening, didn't find one, went back and slept.
Next day I had breakfast with my friend, getting a big fill to prepare for the 40 hour journey ahead of me. Took a cab through the New York traffic to Penn Station and jumped on the relaxing train to Boston.
The trip to New York had been fantastic. I had seen one of the world's great cities and met some dear friends I hadn't seen in many years for some great catching up. That was balanced, of course, with the long exploratory periods I spent walking the city alone, where I covered lots of ground. Unfortunately, one of the goals for the trip – to meet an agent and discuss the fate of my novel – wasn't met this time around. But I went to see the city anyway. Hopefully I'll be there soon when I actually get an agent for my novel manuscript. And when I go there next, at least I won't be a hayseed from the country who doesn't know the city.
Back in Boston airport I felt like I was on familiar turf, and I checked in without a hitch. I explored the teensy departure lounge, and decided that there was nothing worth buying. I bought a slice of pizza and two beers and settled in for a pre-flight meal and read. A lady took an interest in the book I was reading "Oh… 'Our Band Could Be Your Life'… what is that about? Black Flag… the Minutemen… the Butthole Surfers – now that's an interesting name for a band – the Fugazi. Well, that's the only band of the 13 listed here I've heard of… my daughter was into that alternative music, she's 27 years old…" Nice people from Pennsylvania, on their way to southern German and Switzerland, amazed that I was a) Canadian, b) living in Asia, c) could speak other languages, including two Asian languages. Nice people.
The NorthWest airlines fight was really good, and they didn't have that annoying Singapore Airlines habit of putting mealtime before sleep time and serving multiple meals on a short flight. I also had the three seats next to me free, so I stretched out on my personal bed and slept full flat for most of the six hour flight. I got to Amsterdam, got oriented, changed my US$ into Euros for merely a 15% fee from ABN AMRO (which, happily, soon won't exist as a bank), and then scrounged for change so that I could put my 10 kilogram bag-o-magazines into temporary storage; total charge – E5.00, $6.70, S$10 for 12 hours. Ouch! No sense of competitive pricing in the airport monopoly, of course. Europe, and especially Amsterdam, is expensive. Took a train into town (20 minute ride, E3.60, $5.60, S$7.20), and then rented a bike to engage in my trek around the canals of Amsterdam.
Amsterdam morning canal:

Amsterdam afternoon canal. Note my rent-a-bike at the left of the picture:

Someone in Amsterdam is a fan of The Big Lebowski:

I cycled around the city, trying to see as much of the canalosphere as I possibly could. I went one half-circle around the main town, then through the downtown and up and down, and up and down, and finally then to the Rijksmuseum, where I could only see nine rooms or Rembrandts and other Old Masters. Not too shabby, but not the full effect either (mental note: go back to Amsterdam in 2009 when the museum reopens).
This is Amsterdam's big marketing kick, "I am sterdam," built up near the Rijksmuseum:

After eating some falafels for lunch and hanging out in some cafes and drinking beer, I returned the bike and began to wander the Amsterdam station area, taking in the sights, seeking souvenirs, and trying to find an interesting place to grab a pint of beer. Somehow the mood early on a Wednesday night wasn't so great, so I just went off to the airport to have dinner and beers there instead. Bought some duty-free cheese, and hopped on the flight back to Singapore. Slept a bunch, watched two movies and a bit of a TV series, slept some more, read and listened to my iPod (which died just as I reached Singapore – good timing). Took a cab home, got there at 5:15, and Naoko and I went together to pick up Zen from school. He was so happy, he gave me a powerful hug and clung to my arm all the way back to the home. We had a great dinner and a great sleep that night.
CD Reviews:

Eyehategod: "Dopesick" – My favorite CD of the six that I bought on this trip. Brutally violent music, shredded and ripped apart by screaming and terror. I don't know how to describe it but as Corrosion Of Conformity meets The Shining. Many songs begin with the high screech of distortion, which spots the recording throughout. I've never heard a more harrowing recording. These guys must have been even more far gone than even the Butthole Surfers.


Swans: "Children of God/World of Skin" – Strange old Swans music. Mainly mellow, although opening track "New Mind" is the usual sledgehammer crushing that we have come to expect from the Swans. So is "Like A Drug (Sha La La)", which also sounds very Bauhaus somehow. The in-between songs are mellow tunes mostly sung by Michel Gira, but also some with Jarboe. Very dramatic songs, very different each and every one of them. "Real Love" is a strong one, followed by the dire spookiness of "Blind Love."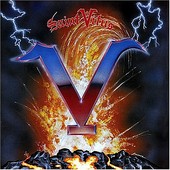 Saint Vitus: "V" – I'd read a lot about this doom band, which is all about spooky doomy slow, plodding tunes. The group of stoner hippies, led by Scott "Wino" Weimann, plays pretty trippy guitar freakout stuff, but the regular tunes sound quite thin somehow. "Jack Frost" starts with the lyrics "Winter is coming/ You'd better beware." And it takes off from there.

Sleep: "Volume One" – Since this is sleep, the band that had albums called "Holy Mountain" and "Jerusalem," and where two of the members went off to form the space-spirit band Om, it's not surprising that the album opens with the sound of chanting – ommmmmmm – before digging up some weird Sabbathian meanderings. Then, four minutes into the six minute-long "Sillborn," the band begins a verse of chanting, before heading back to meander. Great. "The Suffering" is that song that starts dirge-like, but then chugs faster and faster until it's a roaring swirl of sludgy fun. "Numb" is deep, dark, scary, lots of howling. The songs blend together until the sixth track "Catatonic," which is a bit of an attempt at mellowness after a hideous onslaught of horror. "Nebuchadnezzar's Dream" verges on jazz at points.

Sleep: "Dopesmoker" – Of the four musical recordings that I have that consist of a single CD-length track – Sleep, Corrupted, Boris, and Boris and Merzbow, all of them with one track over 60 minutes long – this is certainly my favorite. Starting off with a bass solo that goes on for over 2 minutes, the whole thing is slow to say the least. About 15 minutes in, the line "sacred Israel holy mountain Zion" takes nearly half a minute to complete. This recording is utterly outrageous, out-blacksabbathing Black Sabbath itself. Denser sludge has hardly existed, with perhaps the exception of Electric Wizard. Astounding.

Mekons: "Natural" – The Mekons' 16th album, this one is a bit folkier than anything they've ever done, with songs like "The Old Fox" sounding very Neil Young from his mellowest early-70s moments. Sally Timms seems to be a bit under-used on this release, and most of the tracks are sung by Tom Greenhalgh (accompanied by the ever-present Jon Langford). "Give us Wine or Money" sounds kind of hokey, and "Cockermouth" is groovy reggae with fiddle. The songs are all nice, but unfortunately none of them really make much of an impression.
Movie Reviews:

Pan's Labyrinth – A stunning blend of 'Schindler's List' and 'The Chronicles of Narnia.' Young Ofelia's father has died in the Spanish civil war and now her mother has married a fascist commander who has gone into the forest chasing communists. In Ofelia's attempts to escape a wicked stepfather and a brainwashed biological mother, not to mention her lack of playmates, she seeks friendship among the spirits of the forest, of which she may or may not be a member. Certainly Ofelia wants desperately to be part of something – the dream-like fairy world, the fantasy world of the rebels in the hills – as long as it has nothing to do with the illusionary world of fascism. Pan, of course, has a role in educating young Ofelia, and the stunning finale of the film is tighter than I could have imagined. Bravo.

Music and Lyrics – Hugh Grant stars in another romantic comedy, and considering that it was designed to open on Valentine's Day it has seemingly been made for the few who have never seen him in one (young couples) or those who enjoy seeing him in one after the other (old couples putting off getting hitched). Otherwise it could also be a formulaic ripoff of the Adam Sandler zeitgeist appeal of The Wedding Singer (which, like this one, also had Drew Barrymore in it) or any of the other recent music zeitgeist films. Great scenes of New York City in it, which I had just visited, and really funny fake '80s videos for the WHAM-like group that never was, Pop!
The Christina/Britney clone who hires Hugh and Drew to write a song for her seems like good/sexy parody fodder, but once the fun introductory bits have been processed and romantic couple run into stormy weather you begin to realize – once again – that the fun is over. But watching the film I did have one stunning epiphony – against all expectations, Hugh Grant is actually… finally… starting to look his age. Bad hair, saggy face, wrinkles… Maybe he'll quickly do the Antonio Banderas thing and start appearing in movies where, instead of a swinging single, he's the father of young children!

Harry Potter and the Order of the Phoenix – I saw about two thirds of this film. Harry is angry. Sirius Black is concerned about the young fellow. Delores Umbridge is the most irritating character ever. Can't understand why a giant isn't friendly like my man Jolly Green – ho ho ho.

Borat – A very funny story about a Kazakh reporter who goes off to the U.S.A. in search of cultural teachings for his own country. Sadly, in this reality movie (we know the concept of the reality TV shows, this seems to be one of the first of the reality movies – expect more to come) he becomes somewhat befuddled by the temptations of capitalism, attempting briefly to strike out on his own and leave the collective thought structure of his mother country. Among these misadventures include the temptation to hope for the fallacy of love and non-arranged marriage to an opportunist strumpet. Happily he finds his retribution in a lost land, and ultimately returns triumph and in his village where he is welcomed back into the commune. I am still trying to learn more about Mr. Sagliev's fate upon returning to Kazakhstan. I understand that not all is well, and the authorities do not view his temporary defection well. I have alerted Amnesty International and Reporters Without Borders, but no one seems to have heard about his current status with Kazakh authorities. (p.s. Happy 36th, Sacha)
Books:

The Samurai, by Endo Shusaku – A fiction of religious destiny and character, based on a historical passage from Japan to Mexico to Spain to Rome in the 17th century. Straddling historical developments, when Japan was growing increasingly alienated from Christian missionaries before rejecting them outright – along with the powers that stood behind them. And with its rejection of the west, it almost seems like the dominoes of history had begun to line up and make way to the rise of Japan as an Asia-only power in the early 20th century, a development that eventually paved way to to the horrors that followed before the final opening up of Japan to foreign trade over 300 years after the events of the novel took place. The Samurai is the story of a group of humble warriors who became emissaries to the outside world, via the religious conduit, and what happened to all of them. The story is rich and compelling, believable every step of the way. The passionate Spanish Franciscan missionary zealot is well represented as well, as is the opportunist among the Japanese emissaries. Every life has its possible outcomes, one of which is its destiny.

Our Band Could Be Your Life, by Michael Azerrad – One of the best rock 'n' roll biography books I've ever read, probably because it covers many of my favourite "alternative" bands of the 1980s. Author Michael Azerrad has written about 13 bands, the best chapters being about Black Flag, Minor Threat, the Replacements, SOnic Youth, the Butthole Surfers, Big Black, and Mudhoney. He gets quite deep into the characters, and we learn a bit that we didn't know about people like Henry Rollins, Ian MacKaye, Gibby Haynes and Paul Leary, and Steve Albini. The most harrowing story is in the chapter on the Butthole Surfers, where Gibby and the gang are stone broke and battling poverty with nothing to eat breaking down crying. This is a man who turned his back on a very promising career as an accountant.
TV Series:

Heroes – On the flight to and from Amsterdam they had the first three episodes of Heroes, which seems to be a big hit back home (and I've heard a lot about), so I thought I'd take a look. Of course it's completely derivative of the world of the X-men, where people who are called "mutants," or "homo mutantis" wake up and find that they have superpowers. These people are the same, except they owe no allegiance to Professor Charles Xavier.
And so we follow the lives of a dozen characters, some of them discovering their powers, others with delusions of grandeur. Tense situations build, and some characters are better than others. Most of the stories are built around artificially tense situations, and cliffhanger endings are going to be a page out of the '24′ book, but some of the characters are actually interesting; in particular, there's the struggling stripper and her genius kid. Amazingly, everybody is somehow bound together – there are no coincidences, it seems, in the grand scheme of things – and somehow we do begin to see the method behind the madness, particularly when so much can be accomplished if one (or more) of the characters can control the space/time continuum. Worth watching, if not for the black comedy of the indestructible cheerleader.