Movie reviews
I've seen many movies since I stopped writing this blog. Briefly reviewed:
The Pianist – depressing movie about a lucky man, the film is a blend of Europa Europa and the Painted Birt in its narrative. The dead hospital is surreal, and the way he is kept alive by luck seems unlikely, even though it is a true story.
I Walk The Line – tale of Johnny and Joan Cash. Speeds through many years, and I'm not quite sure I pick up a theme or characters, although plenty of singing is featured. Cash's drug addiction is featured, although he seems to come out of it lightly somehow. His father mentions it several times, he seems to go bonkers once or twice. The steely mastery of the song is never really looked at, altough the depiction of Jerry Lee Lewis as the Johnny Rotten of his time is curious.
Bend It Like Beckham – Great soccer film about girls. Fantastic characters and funny situations. Not sure how realistic it came off as, but I remember enjoying it immensely on my flight home. Jonathan Rhys-Davies was nice to look at, but not a great actor.
Match Point – My second Jonathan Rhys-Davies movie on the flight back, Match Point is a Woody Allen movie that doesn't quite seem like a Woody Allen movie, except it follows the lives of rich opera-loving twits. The plot bears so many uncomfortable parallels to 1989′s Crimes and Misdemeanors, when Woody was having a rough patch with Mia, that you begin to wonder if he's now having a rough patch with Soon-Yi. Not a bad film, overall, but morall reprehensible nonetheless. And neither Jonathan Rhys Myers nor Scarlett Johansson can act. Emily Mortimer, who played Chloe, however, was wonderful. Go figure!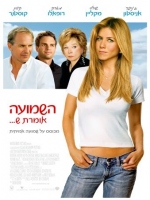 Rumour Has It – lame film about ditzy, dysfunctional Jennifer Aniston who may or may not be the love child of Mrs. Robinson from the real-life (it's a movie) people that the people in the film "the Graduate" were based on from the book that the film "the Graduate" was based on in real life… in the fictional world of this film. Or something like that. Who cares.
Underworld: Evolution – I only watched the first 15 minutes of this film to get the gist of it. It's all about misty night-scenes with strange torch lighting (at night, it's hard to see anything as all, much less the whites of someone's eyes) just as medieval armies are mowed down by hordes of werewolves. Okay, so nothing's supposed to make sense. But, as the Navy recruiters in Singapore say, "if your life were a movie, would it be a good one?" Well, if my life were Underworld:Evolution, or Van Helsing, or Eyes Wide Shut, no – it would not be a good one.
The Brown Bunny – This is not a very long movie, but very little of the first 70 minutes is worth watching. Watch Vincent Gallo check out his bike, watch him visit the mother of his ex-girlfriend, watch him try to pick up a girl in the gas station, watch him cruise around, meet Cheryl Tiegs (old, but still looking pretty good), watch him get to L.A., watch him wander around for hookers. It seems dull, but by the last 20 minutes, which could stand on its own, he gets in contact with ex-girlfriend Chloe Segivny, and it all makes sense. A massively extended short film.
Heavy Metal – the ultimate dumb stoner film. At times fun to laugh with (the mock-Sam Spade futurism, the dumb fratboy tits 'n' ass), at times fun to laugh at (the poor animation). Great soundtrack, good voices (John Candy, Harold Ramis, Eugene Levy), fun times. Hannover Fist is a classic.
Last Life In The Universe – Asano Tadanobu is a geeky weirdo living in Bangkok. He doesn't speak Thai, just hangs out at the library where he works, then goes home and reads books. He wants to kill himself, but somehow can never be successful. Treats the very real, savage theme of suicide probably more lightly than should be allowed, almost a McGuffin of sorts. Ultimately a good film, despite some cartoonishness. Two sisters "Nid" and "Noi" (nid and noi together mean "little" in Thai), dried jellyfish bookmark, Miike Takashi in the cast along with a poster for Asano and Miike's "Ichi the Killer" movie in the library. Interesting…
Late Bloomer – filmed in Nishinomiya, Japan, where I lived for about five years, Late Bloomer is about a severely disabled man who goes through a terrible emotional crisis and becomes mentally unhinged. His caretakers are the ones who suffer as a result. The tale is told in a strange, surreal fashion in parts, that reminds – briefly – of the freaky style of Tsukamoto Shinya.
24: Season 4 – this season, the series finally breaks out of the holding pattern it was in for the first three seasons (first twelve hours are a decoy for what's to unfold in the second half of the series). Many annoying characters are left out, although a few new annoying characters show up. Evil villains are your standard middle eastern terrorists, although there are some complications to indicate a wider conspiracy. By now, you start to think that a lot of what is going on is getting pretty cliche – CTU people spying on each other, the President granting pardon's' ("Jack, we can't grant this criminal a full pardon," "don't worry Mr. President, they won't last more than a couple of episodes anyway."). The series also sees it's first two jokes, of which the punchlines are "I can have him killed" and "Maybe you'll freak out tabout it ina day or two."
The Flintstones – Not a great film, mostly because of the cluttered sets and wonky lighting, but if you listen to the dialogue, you'll hear a lot of cleverness, especially from over-the-top performers like Elizabeth Tayloer and John Goodman. And Harold Ramis makes a good Barny Rubble.
"Oh Wilma – you could have married Elliot Firestone, the man who invented the wheel."
"When I think of all the sacrifices your father made for you – lamb, oxen, your brother Jerry…"
(as Barney's trying to light a fire) "It's finally happened – I've become my father"
(in an emotional moment as he's about to be killed by a lynch mob) "If I had to have someone hanging next t me, I'd want it to be you."
"Everyboddy loves you, Fred. Everybody, that is, except fo this lynch mob!"
Book Reviews
American Psycho – fascinating, interesting, disgusting book about a serial killer. I have a theory about what really went on in this book, but I don't want to give anything away to people who haven't read it yet (but intend to). Needless to say, the style is over the top, with Patrick Bateman absolutely the most depraved character ever invented. His chapters of bent praise for Whitney Houston, Genesis, and Huey Lewis and the News are hilarous, even just for the fact that this all came before Whitney released the Bodyguard, or before Genesis tried out a new lead singer and released the albume Calling All Stations.
Titus Groan – the first book in the Gormenghast trilogy (or is this a four-parter?). A fascinating tale of a depraved, decadent castle world full of bizarre creatures and freaky weirdos. The point of the tale is not often discernable, but the slow building of steam, as he establishes his characters at a glacial pace, is fascinating to say the least. Descriptive passages are lush and penetrating… and long. Here's a description of the castle from page one: "Over their irregular roofs would fall throughout the seasons, the shadows of time-eaten buttresses, of broken and lofty turrets, and, most enormous of all, the shadow of the Tower of Flints. This tower, patched unevenly with black ivy, arose like a mutilated finger from among the fists of knuckled masonry and pointed blasphemously at heaven. At night the owls made of it an echoing throat; by day it stood voiceless and cast its long shadow." Mutilated finger indeed…
CD reviews:
Tokyo Lounge – mellow, chilled out tunes, better if they don't have funky R&B vocals.
Coa "Cut Up" – scary music from Coa, as freaky and fast as you could imagine. Sounds like the Ghost Rider ripping you apart cell by cell.
The Plastics – I got a cool 36-song CD of the Plastics that showcases a lot of their weird Japanese B-52s-like punk rock. Could be a little annoying if you don't get into it properly, but certainly this is the real thing.
Nick Cave and Warren Ellis "the Proposition" (soundtrack) – Strange, spooky, minimalist soundtrack from Nick Cave's recent film with Warren Eillis' wonderful fiddle-work. Nick Cave sings on only three of the twelve songs.
Björk Gudmundsdóttir & Trió Gudmundar Ingólfssonar "Gling Glo" – swing music with Bjork singing. Funny, powerful music, but nothing really new and innovative.
Aaron Ackerson "the Sexiest Man on Earth" – won some awards for humour, but not actually very funny. Many instrumental jazz songs on this, almost as if somebody didn't have the time to think of something funny to lay overtop of it.
Bjork, "Gudmundsdóttir" – Bjork was only 12 years old when this was recoroded, a bunch of nursery rhymes she sang, along with "Fool on the Hill," all in the Icelandic language. Her voice is a bit rougher at that time, but still recognizably Bjork. Lots of sitar on this one.
Nick Drake "Bryter Layer" – classic Nick Drake album, containing "Hazy Jane," "One of These Things First," "At the Chimes of the City Clock," and "Northern Sky."