After a three week pause, I'm back writing my lovely blog. What happened? We woke up one morning in the new year and found that the blog was down for some reason. It didn't come back until yesterday. Seems like the server that hosts the site went down, and somebody forgot to reboot it. Ooops! Not sure how I can go over everything that happened in the past three weeks, but I can hit a few highlights. Nice to have a long weekend at the end of the year. On New Year's Eve Mum and Dad went down to the river to walk around, while Zen and Naoko and I had a quiet evening at home and watched the Kohaku new year's eve stuff on NHK, which included a nice set by Matsutoya Yuming, while drinking lovely gin and tonics. New Year's Day was the day we chose for opening Christmas presents. We put out the presents late at night, then waited for Zen to get up in the morning and discover them. It was a fun morning – Zen was patient and allowed us to eat breakfast before the destruction began. Zen got a bunch of cool things, like a King Kong doll, Darth Vader on a motorcycle (not sure if that one was for Zen or for us), and some hiragana flash cards. I made a book for him, i.e. 'the Amazing Adventures of Zen and Stimpy' kind of modelled after his favourite videos Ren and Stimpy. Fun! I got a Buster Keaton set of 11 DVDs (which has 31 of his films and short films, as well as a career summary thing that includes home movies, commercials, short films, TV spots, and interviews), and some other stuff. I made a book for Naoko, called 'Naoko's Twelve Days of Christmas.' Zen got some more stuff – a tin drum, and a big fun Thomas the Tank Engine circuit with Terrence the tractor and Harold the helicopter. Fun. Mum and dad got us Irish cream coffee powder and some clothes. I got some t-shirts from Mum and Dad, and some more t-shirts from Ralph and Nicole. It was a blur.
Presents!!!
Before… and after
Is this Zen's favourite toy… or is it our favourite toy?
We went swimming, we took the bus to the Science Centre, had lots of fun. Got a cool package from Matt with a bunch of DVDs in it, plus a doo rag. On January 19th, we celebrated Mum's birthday by going out to Paste Fresca Il Salvadore nearby for pizza and pasta and overpriced beer. Gave mum a photo album with pictures of Zen and us in it.
Science Centre Peter and Zen
Doo rag Zen
Oma's birthday
Other fun things that we've been up to recently, went down to Sentosa Island to the Keppel Cove development for an event based around this Clipper round-the-world yacht race. Eight big clipper boats from Liverpool, Cardiff, Western Australia, Singapore, Glasgow, Durban (in South Africa), Qingdao, New York, Victoria (Canada), and Jersey (U.K.) were there. Zen got to go on the Western Australia boat, which was fun, and there were cool guys on stilts walking around, that was quite a fun thing, and then we went home. I've been writing a bit more on my new novel "Music Start," hope to spend several nights or afternoons writing, should be able to do at least 1,000 words in a sitting. May take it to D.C. in May to a publishers convention. Let's see how that works out…
"Uniquely Singapore"
The Year of the all-Cherry Blossom Snake
Zen the junior station master
Book Review – The End of the Affair: A great Graham Greene book on the nature of love, life during wartime, and the perplexing, confused mental games of someone who prays too infrequently. It is also about the strange, quasi-affectionate relationship a man can have with his wife's lover. Told in masterly style by the master himself, with all of the heart-wrenching tragedy of a reluctant love rendered impotent, Greene was clearly years ahead of his time.
Book Review – Our Man in Havana: Quite possibly one of the funniest books I've ever read, about a hapless vacuum cleaner salesman in Havana trying to make sense of his life, even after he is sucked into a cold war spy vortex. Droll dialogue, political assassinations, a sarcastic romantic head of police/professional torturer called 'the Butcher' all lead up to a quasi-dramatic climax and a fully bizarre conclusion. Brilliant Greene.
DVD Review – Fifty First Dates: This movie didn't get great reviews at the time, so I had low expectations, but in the end I found it better even than the adorable 'The Wedding Singer'. With a hilarious Rob Schneider (I know, it sounds weird) done up in full body make-up as a skinny Hawaiian surf daddy with one bad eye. Ultimately, the comedy morphs very nicely into a jarring life predicament for this couple: does he have what it takes to deal with a woman with a serious mental problem for every day of the rest of their lives? Some comedies that 'get all serious on you' seem a bit strained, but this one is just over the top enough to make it all come together fairly well. Although the finger sniffing bit was a little weird.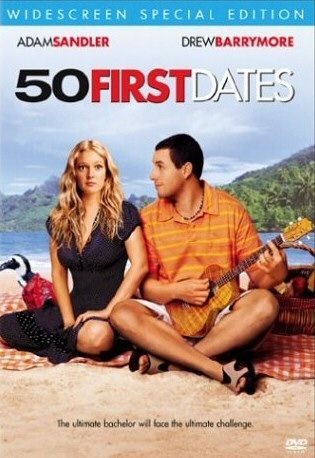 DVD Review – Buster Keaton anthology: Buster Keatotn has an amazing life at the turn of the century in the birth days of silent film, making hundreds of features, including the influential 'The General'. Lots of scenes with Buster getting chased by cops, plenty of rich dad, poor dad rivalry, insane predicaments, dandy Buster or poor sap Buster, warding off financial ruin, it;s all the same with plenty of outrageous stunts. Often, the final scene has something ironic. The Saphead is a typical 'my no-good son' story, the High Sign has lines like 'guarding a man from danger and killing him at the same time is SOME job, women late for the wedding.' House architecture like Max und Moritz, like 'les Vampires, head slammed in door quite freaky. One Week, crooked house, piano on shoulder, spinning house, train destroys house. Go West tells 'boy loves cow, boy loses cow, boy gets cow back' story. The Scarecrow has funny pulley condiments. The Paleface has Buster as a dude on the old West, with Indians, swastika on blanket, 'scals his toupee, backwards horse. Funny ending. They kiss, fade out, – two years later, they're still kissing. Ha ha ha – Three Ages tells the same 'boy meets girl' story in the caveman age, Roman era, and modern era. Crap dinosaur F/X still good for 1924, the stone age must have been the perfect setting for a silent film – no dialogue anyway. Sundial watch, great Roman sets, car falls apart mid-drive. The Goat has another cop chase. My Wife's Relations has nutty Buster accidentally marrying crazy Polish family. The Boat with a floating anchor, The Love Nest 'Dearest, since you have cancelled our engagement, I have decided not tot marry you. Yours, but not any more, Buster.' Seven Chances, Buster battles a rockslide and massive falling boulders!!! Neighbours tells 'Romeo and Juliet' Buster-style. The Ballooniac not memorable, but College shows a bit of what school was like back then, even though Buster seems a little old. Jumps sixty year in the last six seconds. The Electric House, nutty gadgets, golf on the pool table, serving train on table, funny. Hard Luck about a boy going to the city to make a career so he can marry the girl. More cop chases. The Blacksmith not memorable, but Steamboat Bill Jr. is one of the great classics – trying on hats – pork pie, bowler (a la Charlie Chaplin), sinking life preserver, town blown away, wind and bed, crazy falling wall. Prisoner 13 shows gunplay, violence, outrageous stunts. Daydreams has cops chaging him – again!!! Also The General, Cops, the Playhouse, Our Hospitality, Sherlock Jr.