Well, Naoko and Zen are in Japan now. Last Wednesday I left work promptly at 6:00, rushed home, we had a dinner together, Zen and I did the last of his online homework, he did it really really well, so I gave him some presents – a frame for his 400 metre swimming certificate, and a die-cast car I got from one of the big global banks at a recent event, a nice '55 Chevy Thunderbird or something like that. They took a cab at 10:30 to the airport for their 1:10 AM flight. I did some tidying up and stuff, went to sleep late. Thursday and Friday were pretty normal days – I went out with a colleague and a friend for drinks on Thursday night, on Friday I got home late and watched something or other on TV. Saturday I hung out at home in the morning tidying, then headed downtown. Bought an AC adapter for my pedals so that I don't have to fiddle around any more with batteries, also got a guitar chords book, and also the Pink Floyd at Pompeii DVD, which is cool. It contains the director's cut (yuck) as well as the original movie (better). Nice to see these guys as young men. Can see parts of it on YouTube, but it's better to have the real thing. Classic. While downtown I spent a lot of time walking around the Peninsula Hotel mall. What a strange place that is. Not only are there lots of guitar shops and tattoo shops in the bottom levels, but upstairs there are some strange shops – "To Mega Therion," a shop specialising in black metal (and Iron Maiden), as well as a shop nearby that sells magic supplies (a la Diagon Alley?). Took the bus home, made myself dinner, watched Pink Floyd at Pompeii and an episode of Space:1999. Read up on the Wikipedia, and all sorts of other nonsense, before going to sleep at 2:00. Sunday, more tidying, some work, a swim, more Space:1999, and who knows what else. Made lots of noise – played the guitar real loud, and blasted my Sunn (0))) CD "Flight of the Behemoth," also played the acoustic for the first time in ages. The chord book is really great – I'm learning tons of new cords – alternate fingerings mostly for cords that I already know – which is always interesting. Will probably go to sleep late-ish tonight as well, not so great.
One interesting thing – I've moved my guitars. I put the acoustic in easy reach, next to the fish tank, so that I won't forget or neglect it again. Good. I've also put my amp up on the shelf next to the TV so that I don't have to stoop to adjust it any more. Wow, why hadn't I thought of this earlier? The apartment has become much more "guitar-friendly."
DVD review: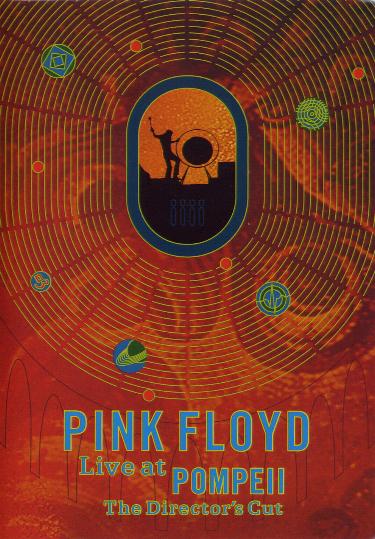 Pink Floyd Live At Pompeii – Great, great, great, great!!!! I was looking for this, didn't expect to find it in Singapore, but sure enough Gramophone near the City Hall MRT station had it. This DVD contains the "Director's Cut" as well as the original concert film. Basically the Director's cut features lots of extra visuals, including computer graphic recreations of Pompeii, the exploding Vesuvius, and other things like NASA shots of rockets going up into space, space walks, images of suns and stars and moons and planets, all the usual things you'd expect of someone depicting a "space rock" band. It also has some extra bits from the studio in Paris when they were recording "Dark Side of the Moon." The Directors Cut starts out with space and planets animated instead of the big zoom-in to the arena in Pompeei of the original film. Not really an improvement, although it's nice to see something different I guess. Cool to see a grand piano in a roman ampitheatre. Gilmour and Wright shirtless, Waters and Mason in black. Integrates black and white studio shots with colour live stuff from Pompeii. Guys walking over steaming earth, awkward cuts to Wright and Gilmour screwing up their Echoes lyrics. Mason flips his drum stick. Broken drum heads on his kit – 8 drums and 5 cymbals. Racks and racks of amps – one shot goes behind them and we see the cameras and crews that face the band. Back of amps all say "Pink Floyd. London." Shots of the London Underground, clock going backwards, empty platform. Throwaway film experimentation. Pink Floyd's psychedelic breakfast at Abbey Road studios as Nick goes weird about apple pie, Roger's veins as he tries out weird keyboard sounds. Talking about over-using equipment. "It's like saying 'give a man a Les Paul guitar and he'll become Eric Clapton." Did Clapton play a Les Paul? Constructing the "On The Run" sequence with sequencers and keyboards. "Careful With That Axe Eugene" with wild lava flows and screams. The and eating oysters. "There's the danger of becoming slaves to the equipment, it happened before. Can't hide behind equipment." Saucerful of Secrets – Waters smashing cymbols with toms, Wright attacking his grand. Fly on Waters' arm – smashes gong that we see on the cover art – all of the guys thin and trim and gangly in t-shirts and jeans, barefoot sand getting into the effects pedals. The band talks money and economics, "rock is not dying like they say," and there's still money in it. Wright doing piano parts in shades fo r "Us and Them" as camera sweeps around. Gilmour "we're not a drug-oriented group. You can trust us." "One of These Days", mason on toms on ctymbols, weird geographic CG. Slow-mo on Mason as the song kicks into high gear, all you see is him, no Gilmour solo or Waters screaming. Mason loses a stick, then pulls a new one out. Nice butterfly logo on blue long-sleeve shirt. Keyboard too high in the mix. Interesting quotes about how well they've learned how to get along, "we're happy together." That wouldn't last. While the others are chatting, Gilmour pulls a perfect "Echoes" guitar solo. "Mesdomoiselle Nobs" with the wailing dog – Wright holding the dog, who sings on cue, Gilmour on harmonica, Waters on guitar (although it sounds like a bass) Address the topic of arguments and in-fighting by claiming that they have the same sense of humour and lust for money. "We can still combine our interest. That's when it breaks down, when one person finds that wheat he's doing isn't interesting, thinks he can do better by himself," says Mason. Then shifts to Gilmour noodling on the guitar, gives a big beautiful smile when he notices the camera. "What would rock 'n' roll be without feedback?" Gilmour plays heavy, thick guitar solos on "Brain Damage," they obviously were never used since the finished product is much more relaxed. "Set The Controls For the Heart Of The Sun", Mason's purple butterfly t-shirt – he has two? "Echoes" in studio – Gilmour stops singing – is he being a prick? Images of Roman erotica, humans cavorting with fauns. Closing "Echoes" – sunnyday Pink Floyd with other backdrops.  TERRIBLE computer graphics bit (1:23:35).  DVD extras. Generally not great, although there is some good stuff.  Three posters, one of which calls the show "A Zappaesque musical pastiche."  Three newspaper articles from the day.  Five "covers of bootlegs" pages with two on each page, so 10 covers.  Four previous covers.  Four albums' with graphics, two songs' lyrics (why only two? why bother?), one 24-minute interview with directore Adrian Maben that was very interesting.  No voice of the interviewer, questions appear as banners.  He explains some of the reasons why there were so many wanky graphics and things, he complains that "you are always unsatisfied with something, you never get it right," and I think that even after 30 years he's ruined his chance to "fix" his mistakes.  But he didn't have much to work with – apparently the rushes were lost, so he couldn't add any material from 1972 into the film, so he put 2003 stuff in.  Big mistake.  I read on the Wikipedia that the shots from the studio in Paris that was supposedly of them recording "Dark Side of the Moon" was actually faked – the band had already finished recording the album and were mixing it.  Other fake shots were done on a sound stage somewhere.  You can tell which ones they were because there are no ruins of Pompeii, the band are squeezed together, and Rick Wright is beardless.  But at least they try.
The "Beastie Boys" made a funny tribute to this movie for the video of their song "Gratitude."  Cz-Cz-Cz-Czech it out!"